Idol worship hits fresh highs as new generation rises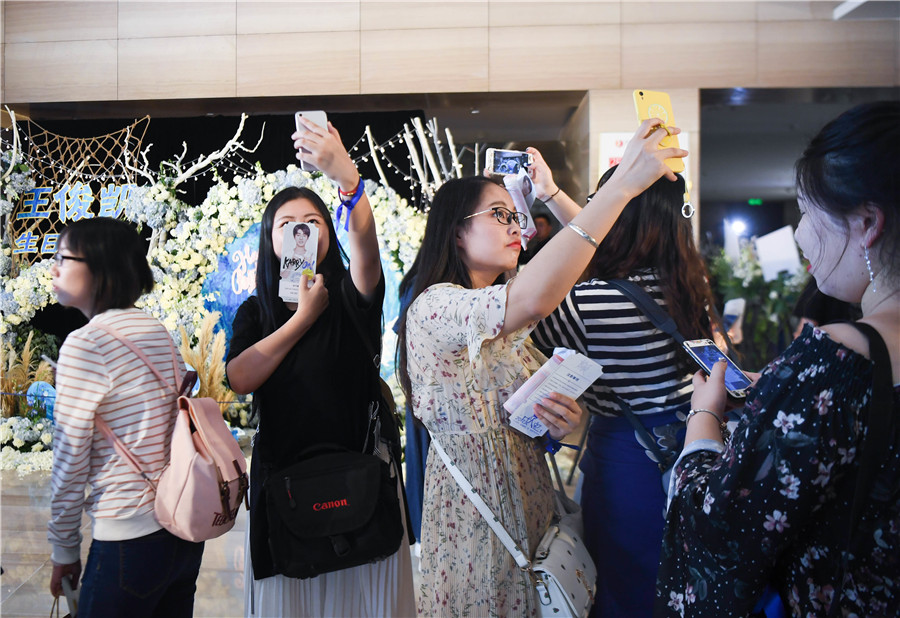 Rise of the idols
Chinese fans have supported singers and stars from South Korea, Japan and Western countries for several years. However, after homegrown boy band TFBoys emerged in 2013, fan support began to shift from foreign stars to local performers. Ding considers this the first wave of China's idols.
"The emergence of the domestic fan economy and new idol industry mentality came at the time TFBoys started becoming popular and Exo's Chinese members returned to the country," Ding said. Exo is a popular boy band that used to have South Korean and Chinese members, but is now exclusively Korean.
In the five years since Ding started her business, she has seen fan support move from South Korean stars in 2014 to Chinese idols in 2016. As Cai Xukun and a new bunch of idols burst onto the entertainment scene last year through talent survival programs, their appearance marked the second wave of idols making a stir in the fan industry.
Owhat has also seen fan activities grow in favor of homegrown stars, from 30 percent when its operations began in 2014 to about 60 percent currently, reversing the popularity foreign stars once enjoyed in China.
Another area that sheds light on the sector is fan mentality. Guo Yunqi, a 19-year-old student at Beijing Foreign Studies University, said that while fans of idol bands overseas usually support the band as a whole, Chinese fans tend to support just one member of a local band-their support is only for their idol's personal good. Guo has been chasing idols for nearly 10 years and is a fan of South Korean boy bands such as GOT7 and Winner.
"Fans will only like one member of a group. If you look at TFBoys, you will understand," she said. "That is why a local band has not really stood out in the past few years."
Ma, who is a fan of Yi Yangqianxi of TFBoys, has a similar view. "At first, there were a lot of TFBoys fans, but after each member had their own solo performances and activities, the number of fans for each individual member skyrocketed," she said.
"The reason most fans support only one member is probably because each person's style and tastes are different, and the backgrounds of many fan groups are different."
Despite the fast rise of idols in recent years, there are still not enough high-quality stars to fuel the domestic idol market or fan economy. Ding said the fan economy does not currently exist, because the sector is still in the early developmental stages and there are not enough idols in terms of quantity and quality to drive it. She added that fan activity and movement are in place now, rather than an economy.
Producing and managing quality stars is something the idol market needs now, and it is also something that Cai Xukun has experienced. Before becoming the super idol that he is today with his Idol Producer fame, he appeared on another talent reality television show Super Idol, produced by Anhui Television and South Korea's Munhwa Broadcasting Corp in 2015.
Despite the initial buzz for the megaproject between the two countries and Cai Xukun eventually debuting in SWIN, an idol group formed after the program, mismanagement and a slew of problems led to him leaving the group and striking out on his own.